Happy Earth Day! I looked through some of my old photos to find my favorite upcycled project with you. I remembered this little cutie I restyled for my daughter's room a couple of years back. I don't have before pics, but trust, it was an old faded chalkboard with a rooster on it (I think), hung from rope. I came up with the idea for the chalkboard to keep my dear daughter on task while she gets ready in the morning :) It was also one of the first paper piecings I did from a digital stamp.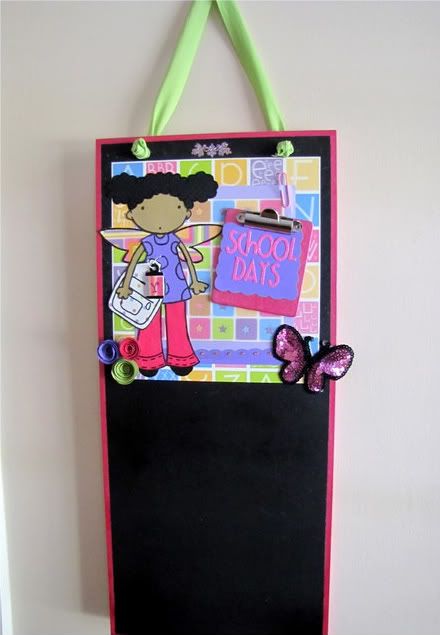 This little cutie is just adorable and reminds me of my girl and her two "bun-buns" as she calls them. The black paper is embossed, giving her hair a textured look, I love it! The fairy girl is a digistamp from
digistampcharacters
on Etsy. I tried to add as many of her favorite things I could, school (thankfully!), the colors green, purple and pink and the sequined butterfly.
I am always looking for ways to reuse, recycle and repurpose with my crafting, how about you? What's one of your favorite re-do's?
Thanks for stopping by!
{{Hugs}}
Kimberly